Xiao Ma (马骁)

I am a research scientist at SEA AI Lab. I pursued my PhD at National University of Singapore, advised by Prof. David Hsu. I also worked closely with Prof. Wee Sun Lee on my projects. I received my B.Sc. in Computer Science from Shanghai Jiao Tong University in 2017, where I was advised by Prof. Fan Wu and Prof. Xiaofeng Gao.

My research focuses on uncertainty modelling, reinforcement learning, graph neural networks, and their applications to robotics.

We're hiring research scientists and interns! Please reach out if you are interested in working with us :)

Email &nbsp/&nbsp CV &nbsp/&nbsp Google Scholar &nbsp/&nbsp Semantic Scholar &nbsp/&nbsp Twitter &nbsp/&nbsp Github
News
- [Nov. 2021] I've successfully defensed my PhD thesis!
- [Oct. 2021] SABRA for object relationship detection under imbalanced distributions has been accepted to BMVC 2021.
- [Jul. 2021] I'm joining SEA AI Lab as a research scientist working on reinforcement learning.
- [May 2021] PROMPT for ab-initio object manipulation has been accepted by RSS 2021.
- [Oct. 2020] CVRL for model-based RL under complex observations has been accepted by CoRL 2020.
- [Sept. 2020] BALMS for long-tailed visual recognition has been accepted by NeurIPS 2020.
- [Jul. 2020] STAR for pedestrian trajectory prediction has been accepted by ECCV 2020.
- [Dec. 2019] DPFRL for reinforcement learning under complex and partial observations has been accepted by ICLR 2020.
- [Nov. 2019] PF-RNNs for sequence modeling under uncertainty has been accepted to AAAI 2020.
- [Jun. 2019] DAN was nominated for the best system paper and best student paper of RSS 2019!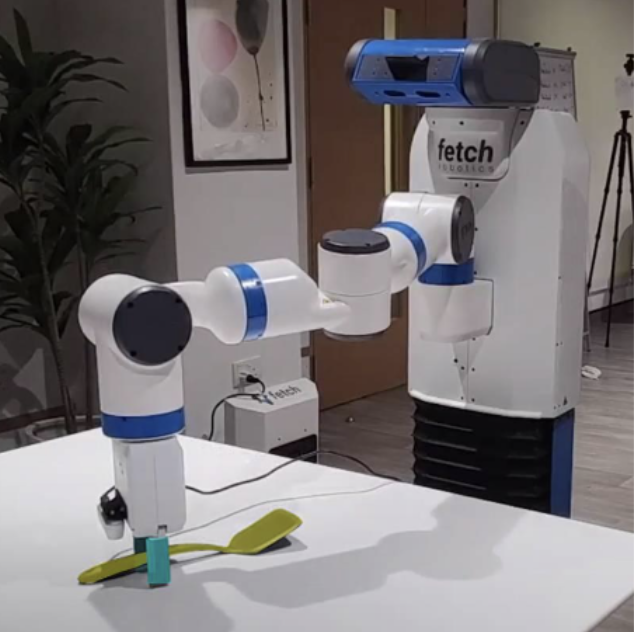 Ab Initio Particle-based Object Manipulation
Siwei Chen, Xiao Ma, David Hsu,
Robotics: Science and Systems (RSS), 2021 &nbsp
project page / pdf / code / bibtex

This paper introduces PROMPT, a framework for particle-based object manipulation. PROMPT performs high-quality online point cloud reconstruction from multi-view images captured by an eye-in-hand camera. It achieves high performance in object grasping, pushing, and placing.